International Big Band Directory

ibd
🔎 search for
Big Bands
▰
Musicians
▰
Venues
▰
Gigs
▰
MiscAds
▰
Forum
▰
FAQ
▰
BGY!
▰
Get Password
▰
Login
🔎
Mighty Fraser Big Band
[Canada] British Columbia Surrey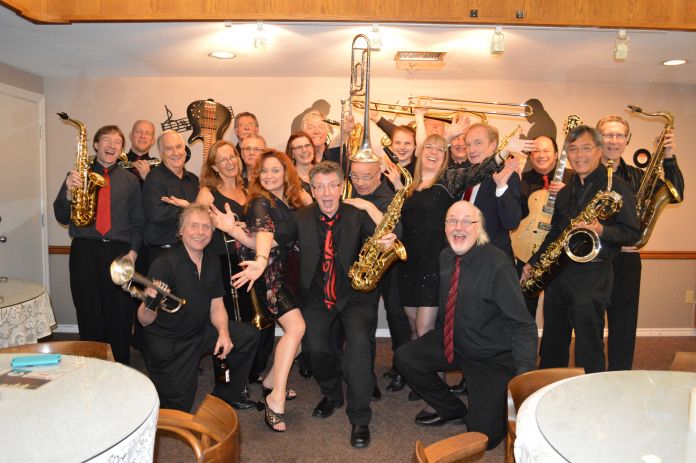 AmateurBigBand

Amateur Band, (?) however, check out our videos, they're as good as any professional band! Let me know your thoughts via our website, mightyfraserbigband@telus.net Mighty Fraser Big Band Is a group of 19 high-energy jazz musicians from across the lower mainland with a passion for keeping the music and sound of the "Big Band" alive in our communities. With a repertoire ranging from the 40's swing era dance classics, to modern big band arrangements of various styles. Reorganized in 2010 by Doug Knight and Casey Blackwell, The bands rhythmic styling are regularly honed every Wednesday at rehearsal by the great music director Christian Findlay, hired by the band Dec.2010 A change of name in 2011; (from Third Stage) to Mighty Fraser Big Band, selected from a list band members submitted, was thought to best represent the band and better reflect the bands location and what they are. Also takes advantage of being associated with the huge, world renowned, Mighty Fraser River that has an exciting history and means so much in the history and to economy of British Columbia, Canada.The band have performed for community, corporate and charity events, private parties, social clubs, Rotary clubs, seniors dances, Resort ski lodges, churches, (Jazz Vespers!), Concerts-in-the-park series', and will be at any occasion where they can get people on their feet and bring a toe-tapping smile to their faces.



🔎
Hard Rubber Orchestra
[Canada] BC Vancouver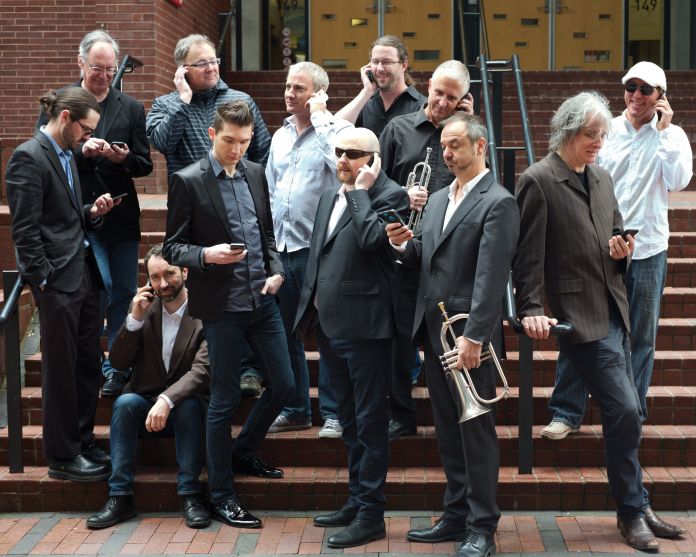 ProfessionalBigBand

Formed by in 1990 by John Korsrud, the 18-piece Hard Rubber Orchestra has been one of Canada's most active and unpredictable ensembles of creative music. Over the years they have collaborated with an incredibly diverse spectrum of local and international artists. HRO has released three CDs, recorded numerous CBC broadcasts, toured to Europe in 2003 and across Canada several times, and received the 2005 Alcan Arts Award – the largest arts award in Canada for creation. They have pushed the boundaries of the concert experience, creating several large multi-media shows such as The Ice Age ice shows (2010, 2000), the arts rave Drum & Light Festival (2010, 2009, 2008), The Elvis Cantata (1996, 1994), the Alcan awarded Enter/ Exit (2005). In 2005 they produced a special for CBC television called Cantata for the King. HRO is one of Canada's leading ensembles to commission new compositions, commissioning forty new works by thirty Canadian composers from jazz and classical fields such as Kenny Wheeler, Darcy James Argue, Rene Lussier, Scott Good, Howard Bashaw, Phil Dwyer, Brad Turner, Michael Blake, Tony Wilson, Fred Stride, Paul Dolden, Peter Hannan, Linda Bouchard, Marianne Trudel and Hugh Fraser.



🔎
Tanglin Rose Big Band
[Singapore] Singapore Singapore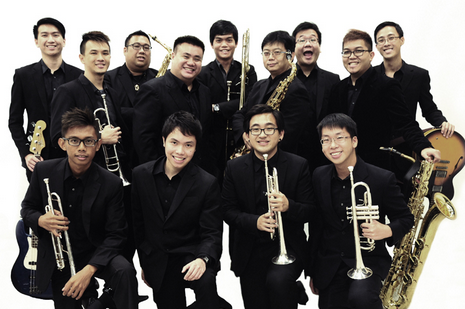 SemiProfBigBand

Enjoy festive favourites, Big Band Swing and '80s music with this dynamic symphonic wind band! Tanglin Rose Big Band is made up of professional-level classical horn players, together with soloists in each horn section, and an all jazz rhythm section line-up. This band has essentially moved on to specializing in Top 40s of the '80s era and are inspired by the likes of Stevie Wonder and Earth, Wind & Fire.



🔎
Summertimes Big Band
[Singapore] Singapore Singapore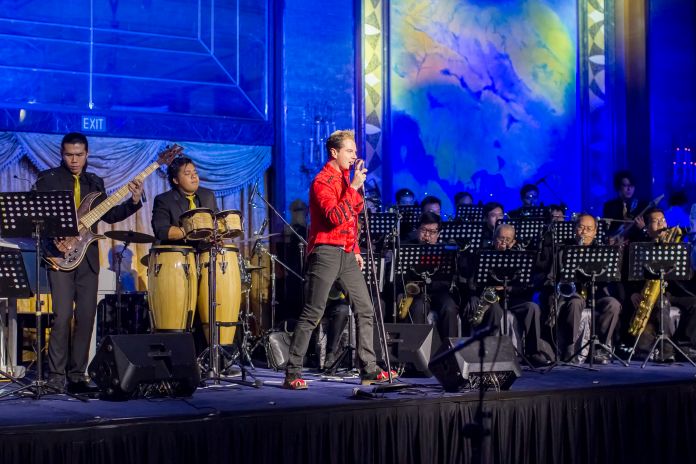 ProfessionalBigBand

The Summertimes Big Band is Singapore's only all-professional and independent big band which rehearses and performs on a very regular schedule. Formed in 2009 by a bunch of long time musician-friends who have been colleagues at other music ensembles and performance stages, the dynamism and synergy of this big band is often always felt beyond its hard-swinging music - to places where only sincerity, friendships and camaraderie can bring. Passion of the bandsmen are best heard at their live performances where collective dedication raises their already professional levels of performance up a couple of notches. Eight years after its inception, the Summertimes Big Band has played for over five hundred performances, much to the delight to its ever-growing base of jazz enthusiast audience - including the local and regional lindy hop swing dance communities. It's first all-swing concert - "1938 - An Evening of Big Band Music and Dance" - was a sold-out success when the band enjoyed minutes of standing-ovations together with world-renowned lindy hop dancers from Sweden & USA - including the indomitable Dawn Hampton of the famous Hampton family of musicians. Most recently, the band has also been invited to play with Charlie Haden for Mosaic Music Festival 2011's opening evening at The Esplanade.



🔎
Bruce James Orchestra
[Canada] British Columbia Vancouver

SemiProfBigBand

Thank you for taking the time to read about the Bruce James Orchestra- one of the hottest semi-professional big bands in the Vancouver BC area! Our 19 piece ensemble has a long history of providing exceptional big band/jazz/dance band music in the Tri-Cities/Lower Mainland/Fraser Valley; we have been performing all over the Lower Mainland since 1999. We perform a variety of big band music and are adaptable to all types of audiences/performance situations. We are a band that exudes high energy in our performance, incorporates rehearsed choreography in our selections, and is an ensemble which prides itself on excellence in both music, and showmanship.



Is your Big Band listed?
▰
A:
Afghanistan
,
Albania
,
Algeria
,
Andorra
,
Angola
,
Antigua and Barbuda
,
Argentina
,
Armenia
,
Aruba
,
Australia
,
Austria
,
Azerbaijan
, ▰
B:
Bahamas
,
Bahrain
,
Bangladesh
,
Barbados
,
Belarus
,
Belgium
,
Belize
,
Benin
,
Bhutan
,
Bolivia
,
Bosnia and Herzegovina
,
Botswana
,
Brazil
,
Brunei
,
Bulgaria
,
Burkina Faso
,
Burma
,
Burundi
, ▰
C:
Cambodia
,
Cameroon
,
Canada
,
Cabo Verde
,
Central African Republic
,
Chad
,
Chile
,
China
,
Colombia
,
Comoros
,
Congo, Democratic Republic
,
Congo, Republic
,
Costa Rica
,
Cote d'Ivoire
,
Croatia
,
Cuba
,
Curacao
,
Cyprus
,
Czechia
, ▰
D:
Denmark
,
Djibouti
,
Dominica
,
Dominican Republic
, ▰
E:
East Timor
,
Ecuador
,
Egypt
,
El Salvador
,
Equatorial Guinea
,
Eritrea
,
Estonia
,
Ethiopia
, ▰
F:
Fiji
,
Finland
,
France
, ▰
G:
Gabon
,
Gambia
,
Georgia
,
Germany
,
Ghana
,
Greece
,
Grenada
,
Guatemala
,
Guinea
,
Guinea-Bissau
,
Guyana
, ▰
H:
Haiti
,
Holy See
,
Honduras
,
Hong Kong
,
Hungary
, ▰
I:
Iceland
,
India
,
Indonesia
,
Iran
,
Iraq
,
Ireland
,
Israel
,
Italy
, ▰
J:
Jamaica
,
Japan
,
Jordan
, ▰
K:
Kazakhstan
,
Kenya
,
Kiribati
,
Korea, North
,
Korea, South
,
Kosovo
,
Kuwait
,
Kyrgyzstan
, ▰
L:
Laos
,
Latvia
,
Lebanon
,
Lesotho
,
Liberia
,
Libya
,
Liechtenstein
,
Lithuania
,
Luxembourg
, ▰
M:
Macau
,
Macedonia
,
Madagascar
,
Malawi
,
Malaysia
,
Maldives
,
Mali
,
Malta
,
Marshall Islands
,
Mauritania
,
Mauritius
,
Mexico
,
Micronesia
,
Moldova
,
Monaco
,
Mongolia
,
Montenegro
,
Morocco
,
Mozambique
, ▰
N:
Namibia
,
Nauru
,
Nepal
,
Netherlands
,
New Zealand
,
Nicaragua
,
Niger
,
Nigeria
,
North Korea
,
Norway
, ▰
O:
Oman
, ▰
P:
Pakistan
,
Palau
,
Palestinian Territories
,
Panama
,
Papua New Guinea
,
Paraguay
,
Peru
,
Philippines
,
Poland
,
Portugal
, ▰
Q:
Qatar
, ▰
R:
Romania
,
Russia
,
Rwanda
, ▰
S:
Saint Kitts and Nevis
,
Saint Lucia
,
Saint Vincent and the Grenadines
,
Samoa
,
San Marino
,
Sao Tome and Principe
,
Saudi Arabia
,
Senegal
,
Serbia
,
Seychelles
,
Sierra Leone
,
Singapore
,
Sint Maarten
,
Slovakia
,
Slovenia
,
Solomon Islands
,
Somalia
,
South Africa
,
South Korea
,
South Sudan
,
Spain
,
Sri Lanka
,
Sudan
,
Suriname
,
Swaziland
,
Sweden
,
Switzerland
,
Syria
, ▰
T:
Taiwan
,
Tajikistan
,
Tanzania
,
Thailand
,
Timor-Leste
,
Togo
,
Tonga
,
Trinidad and Tobago
,
Tunisia
,
Turkey
,
Turkmenistan
,
Tuvalu
, ▰
U:
Uganda
,
Ukraine
,
United Arab Emirates
,
United Kingdom
,
United States (USA)
,
Uruguay
,
Uzbekistan
, ▰
V:
Vanuatu
,
Venezuela
,
Vietnam
, ▰
Y:
Yemen
, ▰
Z:
Zambia
,
Zimbabwe
Sitemap